Chris Addison, Peace Region board public representative
The Fish & Wildlife Compensation Program (FWCP) is pleased to welcome Chris Addison as the newest public representative on our Peace Region board. Chris has been a wildlife biologist for 25 years, has lived in Fort St. John with his two children since 2011 and has a passion for the wild spaces in the region. Born in Mackenzie and raised in Prince George, Chris received a Bachelor of Science in Biology from the University of British Columbia in 1996 and he is a registered professional biologist.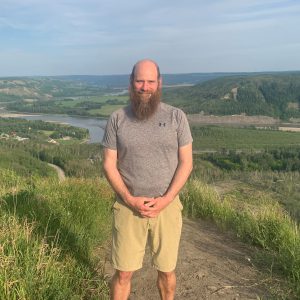 Chris works with Treaty 8 First Nations, local stakeholders, and the provincial government on caribou recovery as it relates to moose and predators as an independent wildlife consultant. He is excited to join the board, as he understands the FWCP's important role in conserving and enhancing fish and wildlife in watersheds impacted by BC Hydro dams.
When he isn't running an independent wildlife consultancy and raising two teenagers, he and his dog Gidget can often be found on local hiking trails or backcountry camping. You'll also find him just running: Chris is training for his first ultramarathons in 2021!