Laurie Kremsater joins Coastal Region Board
Laurie Kremsater of Abbotsford has been selected as the newest Public Representative on our FWCP Coastal Region Board. Laurie has been a dedicated supporter of research and conservation of B.C.'s biodiversity for more than 35 years since graduating with an MSc (Hons) from UBC in Forest Wildlife Ecology and Management.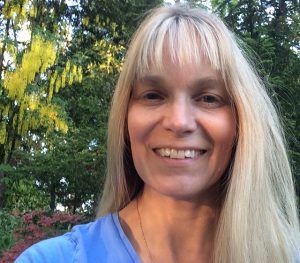 Laurie's curiosity with forestry and then conservation biology started in her childhood. She grew up near the forests of the North Shore and spent much of her time in Sechelt where her grandparents had a farm surrounded by Crown land – a great place for exploring nature and the outdoors. She continues to be connected to nature, now living on a small property with an ephemeral creek and a small patch of mixed forest, near Abbotsford.
She is a Registered Professional Forester and a Registered Professional Biologist with experience in research, monitoring, inventory, and extension programs.  Her projects, while working as a research associate at UBC, as a private consultant, and currently at Madrone Environmental Services, have involved many different species and ecosystems and a range of agencies including provincial, municipal and federal governments, First Nations, forest companies, non-government organizations, and various public groups. Laurie's experience and knowledge in maintaining wildlife habitat while effectively managing resources, especially within Lower Mainland and Sunshine Coast watersheds, will be a great asset to the FWCP Coastal Board.
Our nine-member Board is made up of three Public Representatives, three First Nations, and one representative each from BC Hydro, Fisheries and Oceans Canada, and the Province of B.C.