Meet Margo: new FWCP Program Manager
Meet Margo Sadler, our new FWCP Program Manager! Margo joined the FWCP team on September 25 following an open and competitive recruitment process and is settling into her new role—overseeing the delivery of ~$10 million in annual funding to conserve and enhance fish and wildlife in watersheds impacted by BC Hydro dams.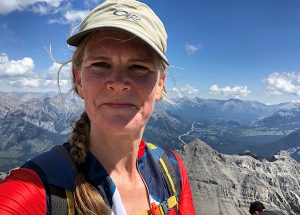 Before joining FWCP, Margo worked for BC Hydro for more than 20 years, most recently within the water program team as Columbia Lead for Water License Requirements.  She has also held roles in environmental policy, governance and audit, integrated resource planning, and corporate finance.
Margo has a masters in resource and environmental management from Simon Fraser University. Her passion for learning is ongoing and she has recently completed courses in Indigenous history, invertebrate zoology, chemistry, ornithology, marine mammals, and ocean ecology.
"I'm very grateful to be involved in a program focused on conservation and restoration—recognizing that healing of lands and people is foundational to the wellbeing of all," says Margo. She is inspired by this quote by Richard Wagamese, one of Canada's foremost First Nation authors, and one of Margo's favourites: "As a human family, we need to work more deliberately at harmony. That is what the Earth requires. Harmony is the energy that heals."
Margo is mother to two sons who keep her young and adventurous in spirit with sea-kayaking voyages and clambering up steeps. She credits her parents with instilling a love of gardening and Nordic skiing early on in life, activities that continue to bring her peace and fulfillment.