FWCP funds shoreline clean up
More than 40 bags of garbage, tires, and various pieces of scrap metal pieces – some weighing as much as 500 lbs – were collected and removed from the shoreline of the Elk River in the fall of 2017.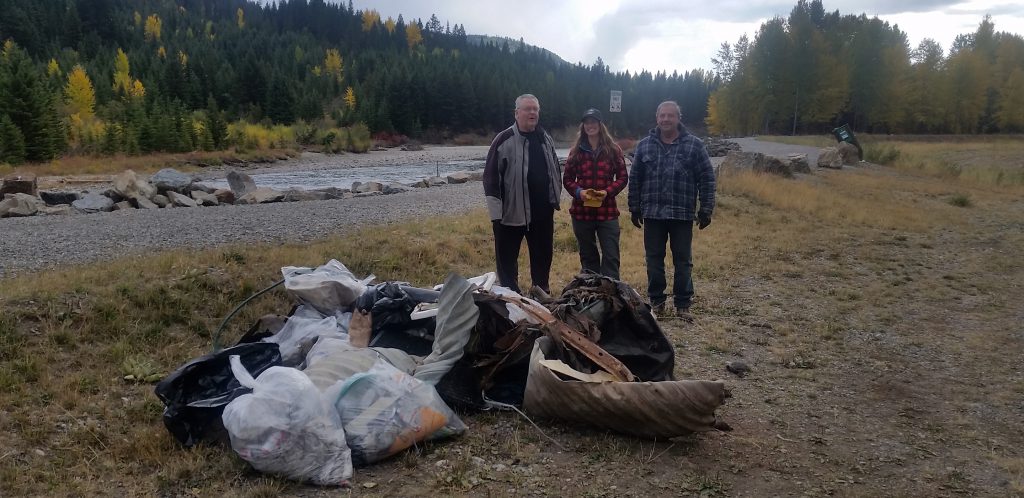 Clean up in Elkford sponsored by the Elkford ATV Club. Photo credit: Elk River Alliance
The Elk River Watershed Alliance, with funding support from the FWCP, spearheaded the effort. The clean-up targeted sites near Fernie, Elkford, Sparwood, and in Area A of the Regional District of the East Kootenay.
Eighty-seven community volunteers, and 48 students from the Fernie Secondary School, turned out to connect with their watershed and "roll up their sleeves" to help fish and wildlife. Their collective efforts will also help drinking water quality, and improve fishing and swimming opportunities. Sites where people typically put their watercraft in, and take out, of the Elk River were specifically targeted, as well as popular beaches and swimming locations.
National statistics in 2016 report that recreational activities and food consumption were the most common sources of garbage in this country. This includes items like food wrappers, plastic containers, and plastic bags that often end up in, and around, our waterways. Fish and wildlife are susceptible to ingesting or getting entangled in plastics and other discarded materials, therefore the volunteer efforts help promote a healthier watershed.
The clean-up effort aligns with FWCP's Columbia Region Riparian and Action Plan, which includes the objectives of maintaining productive and diverse ecosystems, and improving opportunities for community engagement.
Other funders of the project, in addItion to the FWCP, were the the Districts of Elkford and Sparwood, City of Fernie, Elkford ATV Club, Wildsight Elk Valley Branch, and Teck.
If you are part of a stewardship group and have ideas to work with volunteers to help fish and wildlife, then check out our Community Engagement Grant.