Snk'mip Marsh Sanctuary presentation
Join the Valhalla Foundation for Ecology on Monday, May 27, 2019 for a presentation about the Snk'mip Marsh Sanctuary Wetland Restoration Project. Wetland restoration biologists Robin Annschild and Tom Beigbighauser have completed a restoration report for Snk'mip Marsh Sanctuary which will be shared with government, funders, and the community.
The FWCP provided the Valhalla Foundation for Ecology with funding in 2017 to purchase the 35-acre wetland at the north end of Slocan Lake. The name Snk'mip — pronounced "sink-meep" — comes from the local First Nations' language meaning "head of the lake."
The community presentation and feedback session will inform participants about the science behind the restoration work, future plans, and issues regarding the adjacent rail trail between Slocan and Summit Lakes.
Presentation on Monday, May 27, 2019 Memorial Hall in Silverton, from 10 a.m. to 12 noon. Cookies provided.
Field trip to Snk'mip Marsh Sanctuary at 1:30 p.m.
Please R.S.V.P to Wayne McCrory at waynem@vws.org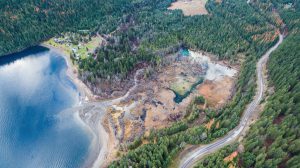 FWCP funds help purchase wetland near Slocan Lake
A 35-acre wetland at the north end of Slocan Lake has a new owner and a new name. In August  2017, following an intensive fund-raising effort, the Valhalla Foundation for Ecology and Social Justice, stepped forward and purchased what was formerly called Bonanza Marsh. The new name – Snk'mip (pronounced "sink-meep") Marsh Nature Preserve – comes from the local First Nations' language meaning "head of the lake."
The FWCP has provided $50,000 to the Foundation to support the land acquisition costs, enabling other previously-collected donations to be applied to future stewardship and restoration work. The Foundation plans to establish a conservation endowment fund so the long-term stewardship of the wetland is ensured.
The property supports wetland and riparian forest habitats, and is an important stopover for migratory bird species including the Blue-listed Trumpeter Swan. It is also home to several other species-at-risk such as Grizzly Bear, Giant Helleborine of the orchid family, and Little Brown Bat. It also serves as an important corridor for many other species moving between Summit and Slocan Lake.
"The Valhalla Foundation thanks the Fish & Wildlife Compensation Program and the many people who contributed to saving the marsh," said chairperson Wayne McCrory.
The property is now being managed as a nature preserve, with non-motorized access.  Three heavy-duty gates have been installed and large boulders have been placed at various access points to deter off-road vehicles. Walkers are welcome to visit the area, at their own risk. Dogs must be leashed.
The first stages of clean-up and some biological surveys of the Snk'mip Marsh Nature Preserve have been completed. This has included an inventory of lichen: over 90 species have been identified, with another 50 to be confirmed.
Several small structures have been dismantled after it was determined that bats were not using them; and garbage, scrap metal, and abandoned materials have also been removed from the site.
Supporting opportunities to secure and steward lands with high conservation values for wetland and riparian areas is a high priority for the Columbia Board. Projects like the Snk'mip Marsh Nature Preserve aligns with the FWCP's Riparian and Wetland Action Plan, and will support a diversity of species in the Slocan Valley for years to come.