Making Darkwoods "whole" – an extra 7,900 ha of protected habitat
The FWCP has been a significant contributor to the purchase and ongoing stewardship of the Darkwoods Conservation Area south of Nelson, which is owned and managed by the Nature Conservancy of Canada (NCC). Up until last year, however, there was a 7,900-hectare hole in the Darkwoods conservation map, encompassing most of the Next Creek Watershed.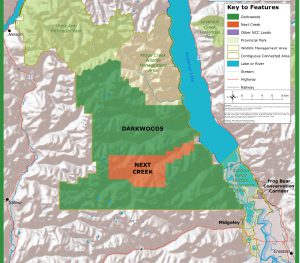 With support from a number of funders, including the FWCP, NCC was able to acquire the Next Creek property in 2018, and Darkwoods is now a vast 630 km2. Since Darkwoods borders West Arm Provincial Park and Midge Creek Wildlife Management Area, this means there is an area spanning over 1,100 km2, (equal to about 2,700 of Vancouver's Stanley Park) of connected habitat.
This habitat includes riparian ecosystems, dry interior cedar-hemlock forest, old-growth and inland temperate rainforest. Some of the key species benefitting from this landscape-level conservation initiative include Grizzly Bear, Wolverine, and Bull Trout.
To learn more about the NCC and the fundraising for the Next Creek Watershed, visit natureconservancy.ca.