Update: Chick F is learning to fly and hunt

June 19, 2019 – Chick F, the star of our 2019 owl webcam left the nest a few weeks ago and now spends time in the aviary learning to fly and hunt. Since the chick will not be in the nest, it's time to unplug our webcam for the 2019 season. We hope to back online in spring 2020.
We'll keep you posted on Chick F's progress through our e-letters and LinkedIN. Be sure to subscribe and connect with us online.
Staff at the Northern Spotted Owl breeding program in the lower mainland, report the chick enjoys perching in the dense cedar trees in the enclosure and is able to eat prey whole. The chick should start hunting its own prey soon.
Supporting the breeding program for this endangered owl is one of 97 fish and wildlife projects we're funding in 2019-2020 to help conserve and enhance fish and wildlife in watersheds impacted by BC Hydro dams. Learn more about our projects and how you can apply for a grant at fwcp.ca.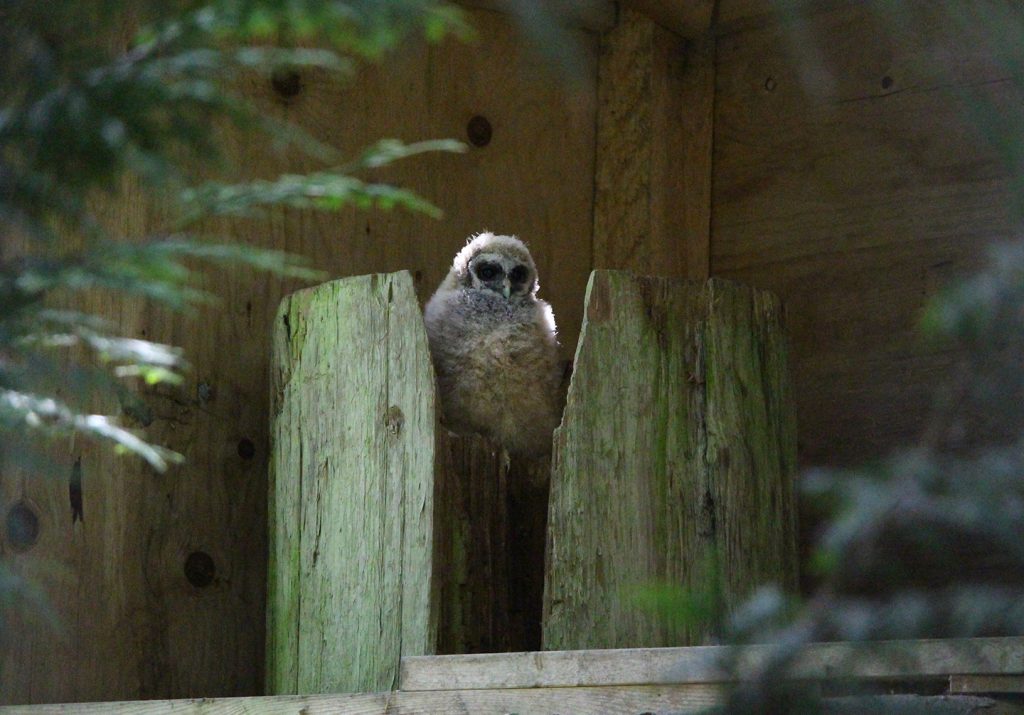 Chick F hatched April 26, 2019, after 32 days of artificial incubation and 87 hours of hatching. Chick F was placed in the nest of foster parents Skalula and Oregon on May 7. They will raise the chick and hopefully strengthen their pair bond and produce chicks next breeding season.
There are less than 10 Northern Spotted Owls left in the wild in Canada. The Fish & Wildlife Compensation Program hosts the webcam in partnership with the NSO Breeding Program in British Columbia's Lower Mainland.
Photos from previous years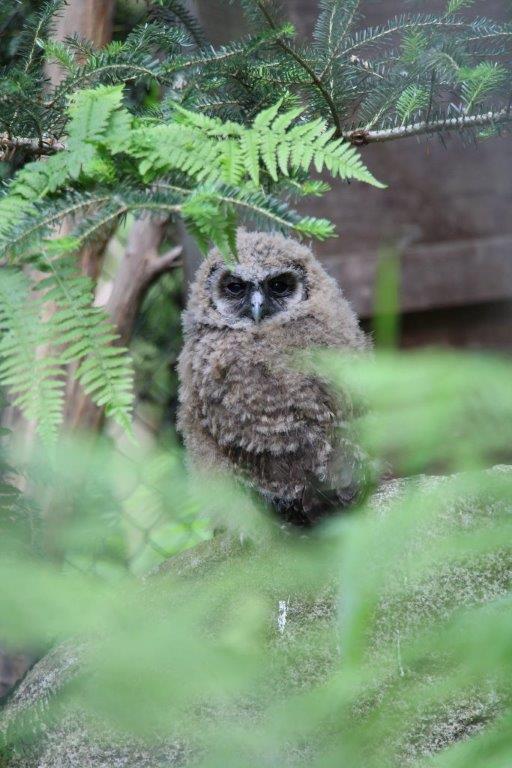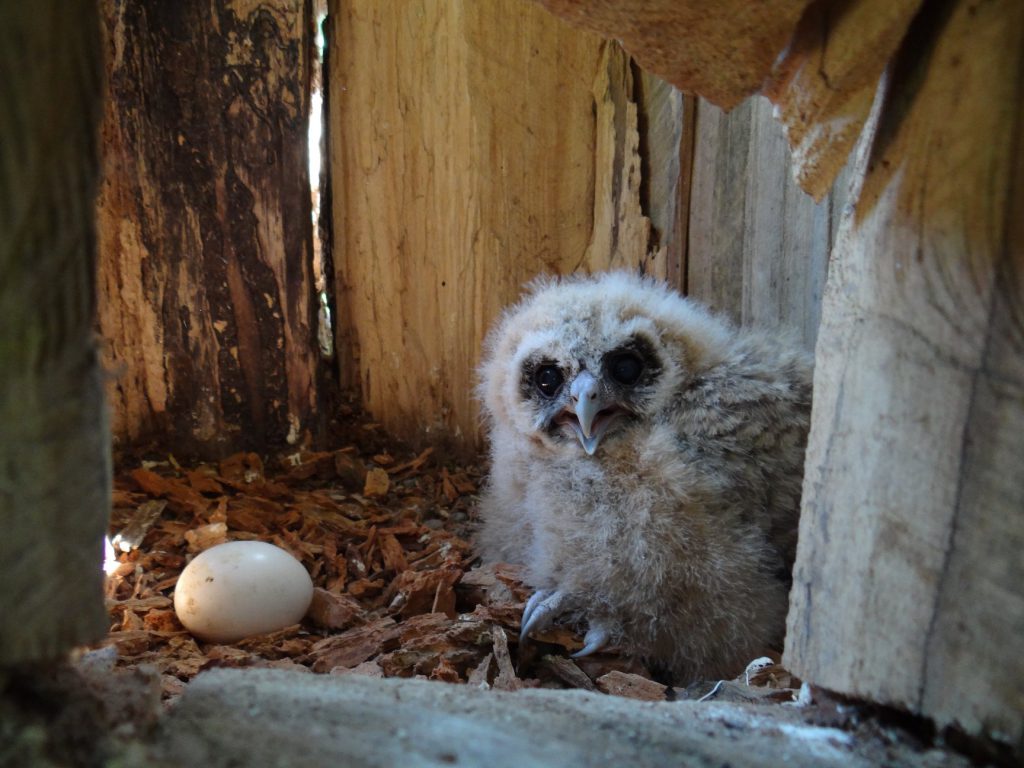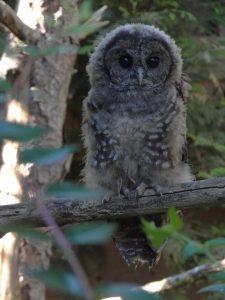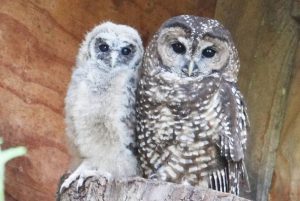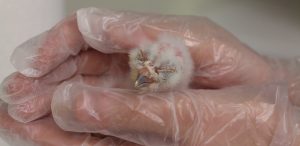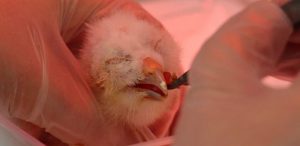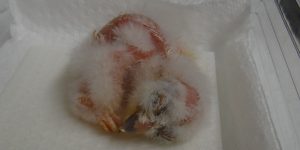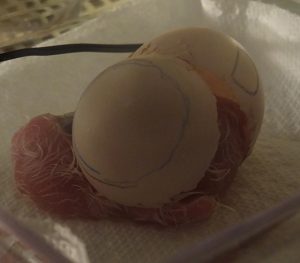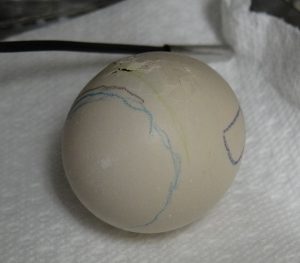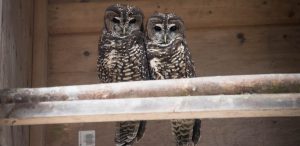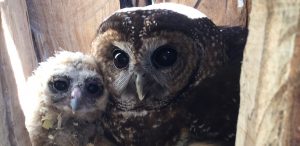 Northern Spotted Owl Facts
The Northern Spotted Owl is the rarest owl in Canada.
The entire wild population in Canada is about 10 and they are all in B.C.
It's one of three sub-species of Spotted Owl.
They prefer old-growth forests habitats.
It's among the largest owls in North America (40 – 48 cms long)
Typically lays two to three eggs per clutch.
Gets its name from the distinct spots on its head and back.
the typical call is a four-note "who hoo hoo whoo."
Strix occidentalis caurina is the scientific name for this species.
This captive breeding program is a critical part of the recovery effort of this owl in Canada.
FWCP and the Northern Spotted Owl Captive Breeding Program
One of the reasons the Northern Spotted Owl is at risk in Canada is due to habitat loss due to a variety of human activities such as timber harvesting and human settlement, including the creation of reservoirs. That's why FWCP is involved: our mission is to conserve and enhance fish and wildlife impacted by BC Hydro dams. In addition to funding the breeding program, the FWCP has also funded research and monitoring on Northern Spotted Owls.  Subscribe and stay informed about FWCP grants, and the projects we fund, including this one. If you have questions about the FWCP, please ask us: fwcp@bchydro.com
The Northern Spotted Owl Captive Breeding Program's objective is to raise and release captive-raised owls into protected habitats, with the goal of establishing a viable self-sustaining population of Spotted Owls within the Lillooet area.
The Northern Spotted Owl Captive Breeding Program is funded by BC Hydro, the British Columbia Conservation Foundation, the Fish & Wildlife Compensation Program, INNERGEX, TD Friends of the Environment Foundation, and the Province of B.C.