Meet the breeding pair of endangered owls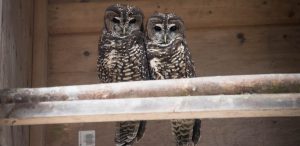 Shania (the larger owl on left) and Scud are a breeding pair of endangered Northern Spotted Owls. We'll bring you live images from the Northern Spotted Owl Breeding Program in British Columbia's lower mainland during owl breeding season until May 2017. We're a proud supporter of this breeding program and efforts to recover Canada's most endangered owl. Subscribe to our e-letter WildBytes and we'll keep you posted on the chicks, the projects we fund, and when to apply for an FWCP grant.

 Watch the owls
Update (March 28, 2017, 10 a.m.) Shania has laid two eggs which are being incubated by staff at the Northern Spotted Owl breeding program. When these eggs hatch, the chicks will be returned to the nest. Removing the eggs helps encourage Shania and her mate, Scud, to lay a second clutch of eggs. Double-clutching mimics natural predation in the wild, and creates the potential for more chicks. If Shania and Scud double-clutch this spring, staff expect eggs to be laid around April 8, 2017. Shania and Scud may spend more time on the roost now, and less time on the nest. We will monitor their activity and adjust our webcam.
Our web camera is looking down at the nest stump that Shania and Scud have chosen this year. You should be able to see one of the owls sitting in the nest and when the chicks hatch there will be lots to see. They will be most active in the early morning and around sunset. What to expect during breeding season. Get to know Shania and Scud. She's the first captive-born Northern Spotted Owl and he was raised in the wild.
About our webcam:  The infrared webcam will be online 24 hours a day. Your internet speed, and the number of people viewing at the same time as you, may impact how quickly the video loads on your device. No special software is required. If your live feed stops, refresh your computer to re-start the video feed. Please watch and watch often, but please don't live stream for extended periods of time or leave your video player open when you are not watching.
Owl Images from 2016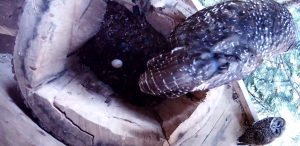 These 2016 images from the nest will give you idea of what to expect this year.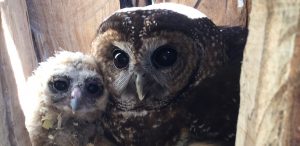 Meet Elliott, Shania's first chick born in 2016, proving that a captive-born Spotted Owl is capable of successfully reproducing. He was named after the Elliott State Forest in Oregon.
Northern Spotted Owl Facts
The Northern Spotted Owl is the rarest owl in Canada.
The entire wild population in Canada is about 20 and they are all in B.C.
It's one of three sub-species of Spotted Owl.
They prefer old-growth forests habitats.
It's among the largest owls in North America (40 – 48 cms long)
Typically lays two to three eggs per clutch.
Gets its name from the distinct spots on its head and back.
the typical call is a four-note "who hoo hoo whoo."
Strix occidentalis caurina is the scientific name for this species.
This captive breeding program is a critical part of the recovery effort of this owl in Canada.
FWCP and the Northern Spotted Owl Captive Breeding Program
One of the reasons the Northern Spotted Owl is at risk in Canada is due to habitat loss due to a variety of human activities such as timber harvesting and human settlement, including the creation of reservoirs. That's why FWCP is involved: our mission is to conserve and enhance fish and wildlife impacted by BC Hydro dams. In addition to funding the breeding program, the FWCP has also funded research and monitoring on Northern Spotted Owls.  Subscribe and stay informed about FWCP grants, and the projects we fund, including this one. If you have questions about the FWCP, please ask us: fwcp@bchydro.com
The Northern Spotted Owl Captive Breeding Program's objective is to raise and release captive-raised owls into protected habitats, with the goal of establishing a viable self-sustaining population of Spotted Owls within the Lillooet area. If you have questions about the owls, the work of the Northern Spotted Owl Breeding Program or how you can arrange a summer 2017 guided tour of breeding program, please ask: nsobreedingprogram@gmail.com. Follow the Northern Spotted Owl Breeding Program on Facebook and please share. Read the breeding program newsletter and find out more about the many partners supporting these recovery efforts.