Early engagement backgrounder and overview
Introduction to the FWCP
What is the FWCP?
The Fish & Wildlife Compensation Program (FWCP) is a partnership between BC Hydro, the Province of B.C., Fisheries and Oceans Canada, First Nations, and public stakeholders to conserve and enhance fish and wildlife in watersheds impacted by existing BC Hydro dams.
The FWCP operates in three regions of the province of B.C. with annual funding provided by BC Hydro. In our Columbia and Peace Regions, the FWCP is a mechanism to meet BC Hydro's water licence conditions. In our Coastal Region BC Hydro's contribution is voluntary. Learn more at fwcp.ca
What is the FWCP's approach?
The FWCP blends its obligation to address dam impacts with a forward-looking approach that recognizes continual adaptation will be required in a dynamic natural environment in order to achieve the FWCP's vision of thriving fish and wildlife populations in watersheds that are functioning and sustainable.
The FWCP also considers the objectives and priorities of its program partners. The projected local impacts of climate change, cumulative effects on the landscape, emerging ecological issues, and other factors will require the FWCP to respond in ways that will protect past conservation efforts and contribute to the resilience of our watersheds and ecosystems in the future, while remaining focused on its overall mission to conserve and enhance fish and wildlife in watersheds impacted by BC Hydro dams.
About our action plan updates
What is an action plan?
Our action plans guide FWCP investments in fish and wildlife projects. Our Coastal Region's watershed-based action plans identify the priority actions eligible for FWCP grants, aligned with our vision, mission, and geographic scope. Projects eligible for FWCP funding must align with a priority action in our action plans. They are referenced annually by our regional boards to guide decision-making.
Why are the Coastal Region action plans being updated?
We update our regional action plans regularly in accordance with our governance manual. In 2022, our Coastal Region board approved funding to update the action plans, including a more focused and strategic approach to priorities.
Year one will focus on six watersheds: four on Vancouver Island, and two on B.C.'s north coast. The remaining action plans will be updated in subsequent fiscal years. See Figure 1.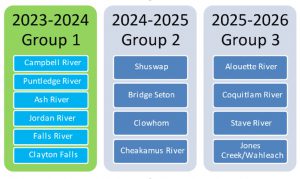 Figure 1: Overview of proposed schedule to update 14 watershed-based action plans.
How will the action plans be updated?
Starting in fall 2023 with early engagement, we will seek input from a range of perspectives—including First Nations, agencies, and stakeholders—to inform updates to our watershed-based action plans. A broader public engagement is planned for March 2024 and will be followed by a public comment period in early summer 2024. A parallel early engagement process with First Nations is starting in fall 2024 and will complement stakeholder input.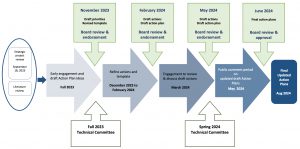 Figure 2: Overview of proposed stakeholder and public engagement process to update six watershed-based action plans in 2023-2024.
How will your input be used?
The purpose of early engagement discussions is to hear from First Nations, agencies, and stakeholders about emerging issues, ecological priorities, opportunities for compensating for construction impacts from BC Hydro dams, options for strengthening ecosystem resilience in the watershed, to receive feedback on our current action plans, and to discuss some initial ideas we have.
Your input will help inform updates to our action plans and will be considered by our technical consultants and board members.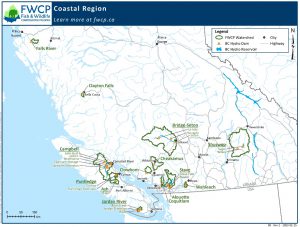 Figure 3: Map of FWCP's Coastal Region.
---