Integrative Whitebark Pine Ecosystem Restoration Initiative
Whitebark Pine is an endangered keystone species of high-elevation ecosystems. It is an important food source of many species of wildlife, most notably the Grizzly Bear and Clark's Nutcracker. It is endangered due to the introduced White Pine Blister Rust, Mountain Pine Beetle, fire, and climate change. The most effective means for Whitebark Pine recovery is through promoting the regeneration of blister rust-resistant seedlings via planting or natural means, retaining healthy trees on the landscape, and ensuring the perpetuation of natural recruitment. This project will directly aid in recovery by planting seedlings grown from potentially rust-resistant parent trees and by determining how local Clark's Nutcrackers are utilizing Whitebark Pine forests and aiding in its recovery.
Update: 2,000 Seedlings Planted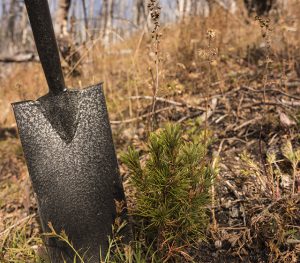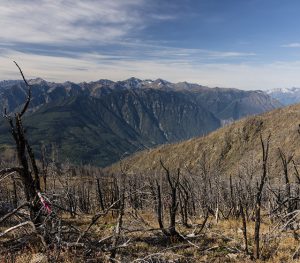 Whitebark Pine Credit: I. Routley
In September 2017, 2000 seedlings were planted on Mount MacLean in the Bridge-Seton River Watershed, near Lillooet. The Whitebark Pine seeds, rich in fat and protein, are increasingly recognized as an important source of food for bears and other creatures. This tree species is at risk due to a blister rust fungus imported to North America, mountain pine beetle kill, and warming temperatures that allow other species to encroach on its high elevation territory. These are very slow growing trees. Volunteer planters hope to 'give nature a helping hand' and assist this important species to continue to survive. The planting was done by the Lillooet Naturalists, Splitrock Environmental employees and T'it'q'it members, including Chief Shelly Leech.