Northern Leopard Frog preservation: American Bullfrog control
This project aims to conduct a comprehensive and targeted surveillance and eradication program on American Bullfrogs. The intent of this project is to protect the productivity of the wetland ecosystem and habitats on which the Northern Leopard Frog is directly dependent, from the specific threat that is being generated by the arrival of the highly invasive American Bullfrog. Eradicating bullfrogs will enhance potential pond habitat for Northern Leopard Frogs, as bullfrogs are an obligate aquatic species known to occupy a wide range of habitats including lakes, ponds, swamps, bogs, backwaters, reservoirs, marshes, streams, irrigation ponds, and ditches. In addition, bullfrog tadpoles are considered to be ''ecosystem engineers,'' altering the biomass, structure, and composition of algal communities.
---
Bullfrogs threaten Northern Leopard Frogs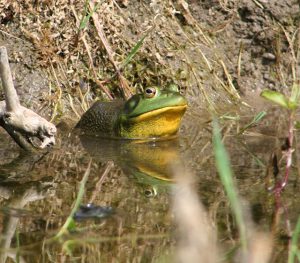 For nearly twenty years, the FWCP has been funding work to conserve Northern Leopard Frogs in the Creston Valley. Results have been positive, with some success in re-introducing this endangered species to its historical range in the East Kootenay. But now the aggressive and voracious American Bullfrog has arrived, creating a direct threat to native fish, salamanders, snakes, lizards, birds, turtles, and endangered Northern Leopard Frogs.
Right now, there is an established (reproducing) population of bullfrogs south of Salmo. More recently, adult bullfrogs – no tadpoles yet – have been recorded north of the Rykerts border crossing, about 13 kilometres south of Creston.
With funding from the FWCP, the Central Kootenay Invasive Species Society (CKISS), together with the Northern Leopard Frog Recovery Team, the Province of B.C., and other partners, are working on three fronts to reduce the threat of Bullfrogs:
surveillance
eradication, and
education.
Surveillance: Surveillance includes visual and acoustic monitoring, and environmental DNA testing of water samples to detect Bullfrog presence.
Eradication:  In 2017, eradication was successfully completed in five sites, where the captured Bullfrogs were euthanized in accordance with Canadian Council for Animal Care guidelines. Project partners are aware, however, that eradication from these sites may be temporary, as more Bullfrogs continue to push up from Idaho.
Education:  Public outreach and education undertaken by CKISS to raise awareness about American Bullfrogs led to the first confirmed sighting of this species in Creston. CKISS will build on previous communication successes, and expand landowner outreach in the Creston Valley in 2018.