Update: Students help build new wetland in Mackenzie
FWCP is funding a project to create a small wetland at Morfee Elementary School in Mackenzie. It's one of 26 FWCP-funded projects in the Peace Region in 2019—2020, for a total investment of approximately $1.5 million.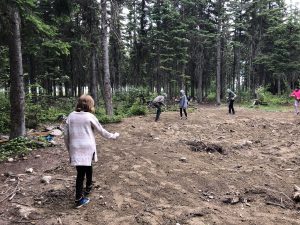 Led by the British Columbia Wildlife Federation (BCWF), the goal is to create a naturally appearing and functioning wetland to support waterfowl, bats, amphibians, song birds and invertebrates. It will also serve as an invaluable outdoor space for students to learn hands on about nature, science, and art.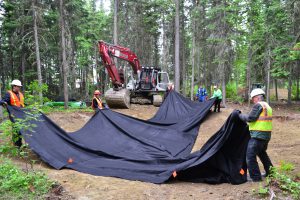 "In addition to creating this small educational wetland for the school, BCWF is also educating First Nations communities through a series of wetland workshops, increasing wetland stewardship in our region." says FWCP's Peace Region Manager, Chelsea Coady.
Advancing wetland stewardship and engagement in the Peace Region
This project will be delivered by the BC Wildlife Federation (BCWF), which will offer two wetland inventory and health assessment workshops, in Fort Ware and McLeod Lake, in partnership with Kwadacha Nation and McLeod Lake Indian Band. The wetland inventory training will enhance local capacity to ground truth and interpret wetland information, which will add value to the FWCP Riparian Areas and Wetland Mapping Project and help identify candidate wetland restoration sites. BCWF will also restore a wetland at Morfee Elementary School in Mackenzie, to provide students with an invaluable educational tool. Additionally, BCWF will continue to explore the other wetland restoration opportunities identified in Mackenzie during 2018 initiatives.
News Release Mackenzie Wetland June 27, 2019