Peace Region Action Plans
Our Action Plans guide FWCP investments in fish and wildlife projects, and are referenced annually by our regional Boards to track progress toward implementation, set annual priorities, and guide decision-making in setting out and approving the Annual Operating Plan for each region. Actions in our Action Plans are eligible for FWCP funding and align with our vision, mission, and geographic scope.
Our Peace Region Action Plans were finalized in 2014, and have been used since then to guide more than $7.1 million in project funding toward more than 114 projects. Read our Strategic Project Review for more about our progress.
Thank you for you input on draft action tables
Thanks to everyone who took part in our engagement process from March 23 to May 1, 2020 to discuss updates to our Peace Region Action Plans. The input we received from three online information sessions, three technical workshops and our online feedback form will be reviewed and considered as we finalize draft updates to our Peace Region Action Plans.
Videos of our online discussions are available for your review along with our draft action tables. See links below.
Final draft Action Plans will be available for public review in mid-June before being finalized in August 2020. Subscribe and you will let you know when final draft Action Plans are available for your review.
Wednesday, April 8                          Wednesday, April 22                        Wednesday, April 29
Video of discussion                           Video of discussion                           Video of discussion
Tuesday, April 14                             Wednesday, April 15                       Thursday, April 16
Aquatic Draft Actions                      Terrestrial Draft Actions                  All Draft Actions
Video of discussion                          Video of Discussion                         Video of Discussion
Background
Our current Action Plans include five ecosystem-based, and one species of interest Action Plan, plus an over-arching Basin plan. Read our 2014 Peace Region Action Plans.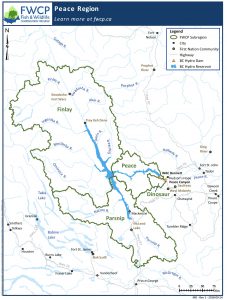 Our FWCP Governance recommends Action Plans are updated every five years. Updates will:
ensure the FWCP's priority actions build on past projects, results, and recommendations for future work;
help align our projects with relevant objectives of our program partners (i.e. Province of BC, First Nations, Fisheries and Oceans Canada, BC Hydro and Public Stakeholders)
acknowledge and address emerging issues, and address ecological priorities, as appropriate for the FWCP; and
confirm that FWCP-funded projects align with the FWCP vision and mission.
A review of past projects was completed in 2019 by Ecofish Research Ltd. The results of this strategic project review will be considered in 2019-2020 updates to our Action Plans. Ecofish Research Ltd. will provide technical support regarding updates to the Action Plans, with guidance and support from the Peace Region Board, First Nations Working Group, technical committees, and Regional Manager.
---