Our grant intake and project cycle
Deadlines may change annually, but the key steps in our application and project cycle do not.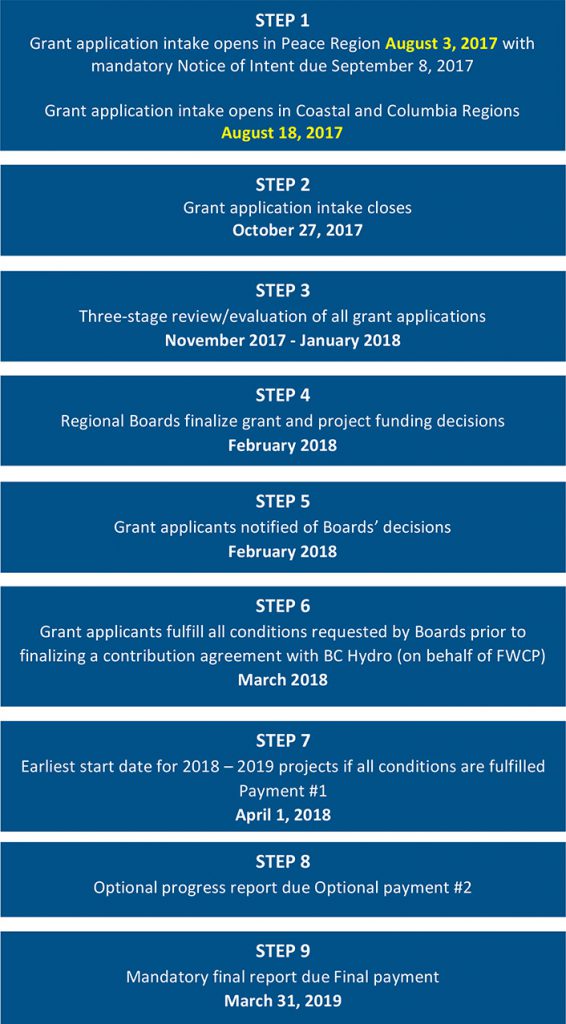 1. Grant application intake opens (summer)
Our annual intake of grant applications opens in late summer and closes in late fall.
Peace Region grant intake opens Thursday, August 3, 2017.
Mandatory Peace Region Notice of Intent is due Friday, September 8, 2017 at 5 p.m. PDT.
Coastal and Columbia Region grant intake opens Friday, August 8, 2017.
All grant applications are due Friday, October 27, 2017, by 5 p.m. PDT and must be submitted through our online grant management system.
2. Grant application intake closes (fall)
Our annual intake of grant applications closes in the fall.
3. Three-stage review and evaluation of grant applications (November to January)
When the grant intake closes, each grant application goes through a three-stage review and evaluation. Our fish and wildlife Technical Committees in each region, plus our Boards, review and evaluate each grant application. In our Peace Region, our First Nations Working Group (FNWG) also reviews all grant applications. This happens between November and January.
4. Regional Boards finalize decisions (February)
Board Members discuss each grant application and make final decisions. This happens in January and February.
5. Grant applicants notified of Board decisions (February)
Grant applicants will receive a notification letter via email informing them of Board decisions, including any approval conditions that must be fulfilled prior to finalizing a contribution agreement and starting work on the approved project. The contribution agreement outlines the payment and reporting requirements, etc.
6. Fulfill any conditions (March)
All grant applicants are required to meet our mandatory insurance conditions (i.e., WorkSafe BC and commercial general liability insurance), and any other project-specific conditions requested by our Regional Board, before finalizing a contribution agreement with BC Hydro on our behalf.
7. Projects can begin and first payment (April 1)
When the conditions have been fulfilled and the final contribution agreement is fully executed, the first payment can be initiated, and the project can start. This can happen as early as April 1.
8. Optional progress report due and optional second payment
If your Small or Large Grant application is approved, you have the option to submit a progress report and a statement of accounts midway through the project and receive a second payment. The progress report and statement of accounts must be submitted via our online grant management system at http://fwcp.ca/apply-for-funding/. This optional progress report and payment does not apply to Seed Grants.
9. Mandatory final report due and final payment
A mandatory final report must be submitted through our online grant management system by midnight Sunday, March 31, 2018, A final statement of accounts is also due but can be submitted after the final report. A final payment will be issued when the Regional Manager has accepted the final report and statement of accounts.